The Honor Winds at Creek Valley Middle School will perform at the 70th annual Midwest International Band and Orchestra Conference.
Lewisville ISD (LISD) is proud to announce that the
Creek Valley Middle School
(CVMS)
Honor Winds
have been selected to perform at the 70th annual prestigious Midwest International Band and Orchestra Conference.
"This is a national honor that only a select few middle school bands are ever selected to be a part of," CVMS Principal Dr. Nicole Jund said. "Our staff, students and families have committed countless hours to achieve this once in a lifetime experience."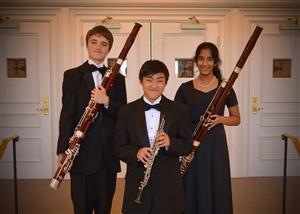 The annual Midwest clinic is the largest conference of its kind, with more than 17,000 attendees from all 50 states and more than 30 countries. The top band orchestras from around the world are selected from taped auditions to perform throughout the conference and showcase the newest music and techniques for teaching. From students to professionals, performers have a chance to exhibit their talents to a supportive and enthusiastic audience with an interest in furthering music education.
"I am so proud of Honor Winds and I'm so excited to start this unforgettable journey," CVMS Head Band Director Kim Cooley said. "Seeing the culmination of so many people's efforts, including private teachers, parents, and students is so rewarding."
Assistant Band Director Aaron Levine added: "Mrs. Cooley and the entire band have put in an unreal amount of work this year, and they deserve to be counted among the best bands in the country. It will be very exciting to see them performing on the stage in Chicago."
The clinic is in its 70th year, and will take place in Chicago in mid-December. To learn more about the conference, click
here
.
Help us in congratulating the CVMS Honor Winds!
Please consider donating to help us offset the cost of the trip!